About

RE/MAX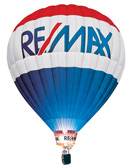 The one real estate award that means a lot to me is membership in the RE/MAX Hall of Fame. It says something about a high level of service delivered over a sustained period of time leading to consistent high-level productivity.
I've been with RE/MAX for 10 years now. Previously, I was with three companies, the first merging with a second and the second being bought out by a third...all national companies with names you would
recognize.
RE/MAX is the one company that helps optimize my performance, giving me the support I need to give my clients the best service. RE/MAX gives me the freedom to conduct my business on a tailored, personal level rather than having to conform to a corporate one-size-fits-all model. If I need to work with a non-RE/MAX agent in another state during a relocation or if I believe in the service provided by a title company not affiliated with RE/MAX, I am free to use my own judgment without being second-guessed.
In a myriad of ways, RE/MAX supports me and my clients are the ones who reap the benefits. Thank you, RE/MAX.
What

Clients Say

"Not until we met Mr. Brunet did we realize how well the process could work when handled skillfully and professionally...at every juncture, we were impressed with Mr. Brunet's judgment, professionalism, and ability."
—Tom B.

"Jim is hardworking, honest, and knowledgeable."
—James R.

"Throughout the process, I appreciated most Jim's candor and his constant optimism and sense of humor. It was a pleasure to have such a personable professional on our side."
—Chris & Donnelle B.

"Jim demonstrated his sense of fairness and honesty...We truly appreciated Jim's knowledge of the housing market and his willingness to share his thoughts and options. His availability and promptness to answer questions or to respond to needed actions were superb."
—Lisa & Barry R.

"I was very pleased with Jim's ability to relate to my needs...."
—Donna C.

"Jim provided a number of much-needed counseling sessions about the reality of the market that I can only appreciate fully with the benefit of hindsight. I imagine this must be one of the most difficult parts of the job and he did it well."
—Rudy H.