Why

Santa Monica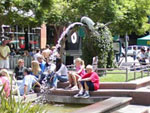 Located on the shores of the Pacific Ocean and featuring a Mediterranean-like climate, Santa Monica has excellent schools and access to all the cultural opportunities in Los Angeles - while maintaining superior parks, libraries, and other city services. Santa Monica is home to an ethnically and economically diverse population of approximately 90,000.
St. John's and UCLA Medical Center, Santa Monica anchor health care. Upscale office complexes include the Water Garden and the Arboretum. There's a sizeable Silicon Beach presence plus entertainment-oriented services such as digital sound and post-production.
Cultural Opportunities
Santa Monica is home to the Museum of Flying, the Bergamot Station complex of art galleries, Santa Monica College productions and Westside Ballet. The Getty Villa (antiquities) is just up the coast in Malibu, while the larger hilltop Getty Museum is in Brentwood. The Hammer Museum in Westwood features emerging artists, while the Fowler Museum focuses on cultural history. The Center for the Art of Performance at UCLA puts world-class drama, music, dance and spoken word on stage, while the UCLA Film & Television Archive screens classic and international films at the new Billy Wilder Theater.
Sports and Recreation
Spectator sports include access to professional sports teams (Dodgers, Lakers, Clippers, Kings, and—as of Fall 2016—the NFL's LA Rams), horse racing at the Santa Anita racetrack, and exciting collegiate sports at UCLA. Recreational opportunities include a well-developed park system with amenities ranging from lawn bowling to fitness circuits. And don't forget the Santa Monica Pier with its iconic merry-go-round and ferris wheel. The dazzling beaches suit the active and the sunbather alike. Within half a day's drive, you'll find skiing at Mammoth Mountain, exploring the Death Valley National Monument, or camping on the central California coast near the Hearst Castle.
Easy Access
Santa Monica provides easy access to other parts of the Los Angeles metropolitan area: UCLA is just minutes away, LAX (Los Angeles airport) is 20 minutes away, and downtown Los Angeles and the South Bay communities such as Manhattan Beach and Torrance are but half an hour away.
More

Reasons Why
Schools, Public and Private

The Santa Monica school system offers eight elementary schools, two middle schools - including Lincoln Middle School, a California Distinguished School and a National Blue Ribbon School - and Santa Monica High School.
Shopping and Dining

Shopping? Dining? Try the Third Street Promenade, close to the beach and home to one of several farmers' markets. It's a pedestrian mall stretching three city blocks, with a blend of flagship national retailers, including an Apple store, merchandise carts, newsstands, fountains and topiary, street entertainers, sidewalk cafes, full service restaurants, and movie theaters. The three-story Santa Monica Place Mall is anchored by Nordstrom's and Bloomingdale's and features an Arclight Cinema as well as dozens of other shops and restaurants. Eclectic shops, cafes, and restaurants distinguish Montana Avenue, Main Street, and Ocean Park Boulevard.