Public

Schools
The Santa Monica public schools are part of the Santa Monica-Malibu Unified School District and have no connection to Los Angeles public schools. Elementary schools cover grades K-5, middle schools grades 6-8, and high school grades 9-12.
Franklin, Roosevelt, and McKinley Elementary schools feed Lincoln Middle School, which has been recognized as both a California Distinguished School and a National Blue Ribbon School. Grant (photo above), Will Rogers, Muir, and Edison Elementary schools feed John Adams Middle School (JAMS), which hosts a science magnet program.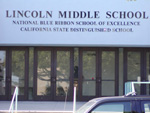 Both middle schools feed Santa Monica High School (often referred to as "Samohi"), which routinely sends graduates to programs of higher education at UCLA, UC Berkeley, the Ivy League colleges, and dozens of other colleges and universities across the country.
Samohi usually is well represented by students making passing scores on Advanced Placement exams and in the ranks of National Merit finalists and semi-finalists. Its music programs–bands, orchestras, choirs–have won many awards and participating students have gone on to distinguished college music programs. Samohi also has a very strong tradition of musical theater productions.
For additional information, please check out the website for the Santa Monica-Malibu Unified School District.
Santa Monica College
Santa Monica College is a part of the California Community College system and has an enrollment of approximately 22,000 students. It has an extensive relationship with Santa Monica High School. Often it is the number one community colleges in the state in rankings for the number of students successfully transferring to the University of California and other four-year institutions of higher learning. California Governor Arnold Schwarzenegger went to Santa Monica College. See the website: Santa Monica College.