Private

Schools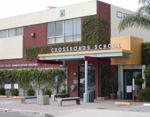 Santa Monica parents can also choose private schools close to home. Here is a brief list of private schools within the City of Santa Monica, with web site addresses for further information:
Carlthorp K-6 www.carlthorp.org
Crossroads K-12 (photo above) www.xrds.org
New Path Montessori K-6 www.newpath-school.com
Newroads 6-12 www.newroads.org
P.S. #1 K-6 www.psone.org
St. Monica's K-8 www.stmonicaces.org
St. Monica's High School www.stmonicahs.org
Waldorf Elementary K-4 www.wswaldorf.org
Private Schools Outside Santa Monica

Numerous other private schools are located in the surrounding Los Angeles area, offering a wide variety of academic experiences. Following is a brief list:
Archer School (girls only) 6-12 www.archer.org
Brentwood School K-12 www.bwscampus.com
Curtis School K-8 www.curtisschool.org
Harvard-Westlake 7-12 www.harvardwestlake.com
John Thomas Dye K-6 www.jtdschool.com
Le Lycee Francais K-12 www.lyceela.org
Marlborough (girls only) K-12 www.marlboroughschool.org
Marymount High (girls only) 9-12 www.marymounths.com
Milken Community High 7-12 www.mchschool.org
Stephen Wise Temple Elementary School wise-school.org
Notre Dame Academy K-8 coed (9-12 girls only) www.ndala.com
St. Paul the Apostle K-8 www.spapwc.com
Wildwood K-12 www.wildwood.org
Windward 7-12 www.windwardschool.org
No endorsement of any of the schools is expressed or implied. Listings here are for the convenience of prospective real estate clients and are by no means guaranteed to be complete.