Pico

Neighborhood

Santa Monica's most affordable neighborhood, the Pico neighborhood is situated between Olympic and Pico Blvd, cut in two by the Santa Monica freeway which runs roughly parallel to both streets.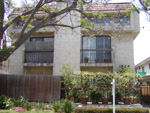 Santa Monica College, located on Pico Blvd. between 14th and 20th Streets, is a major presence in the area. Apartment buildings and condos predominate, with condo prices typically ranging from the mid $400,000's to the mid $600,000's.
A few single-family homes can be found, particularly at the eastern end of the neighborhood, with prices ranging from around $700,000 to a little over $1,000,000.
Neighborhoods
This page: Pico Neighborhood
Or choose another neighborhood: